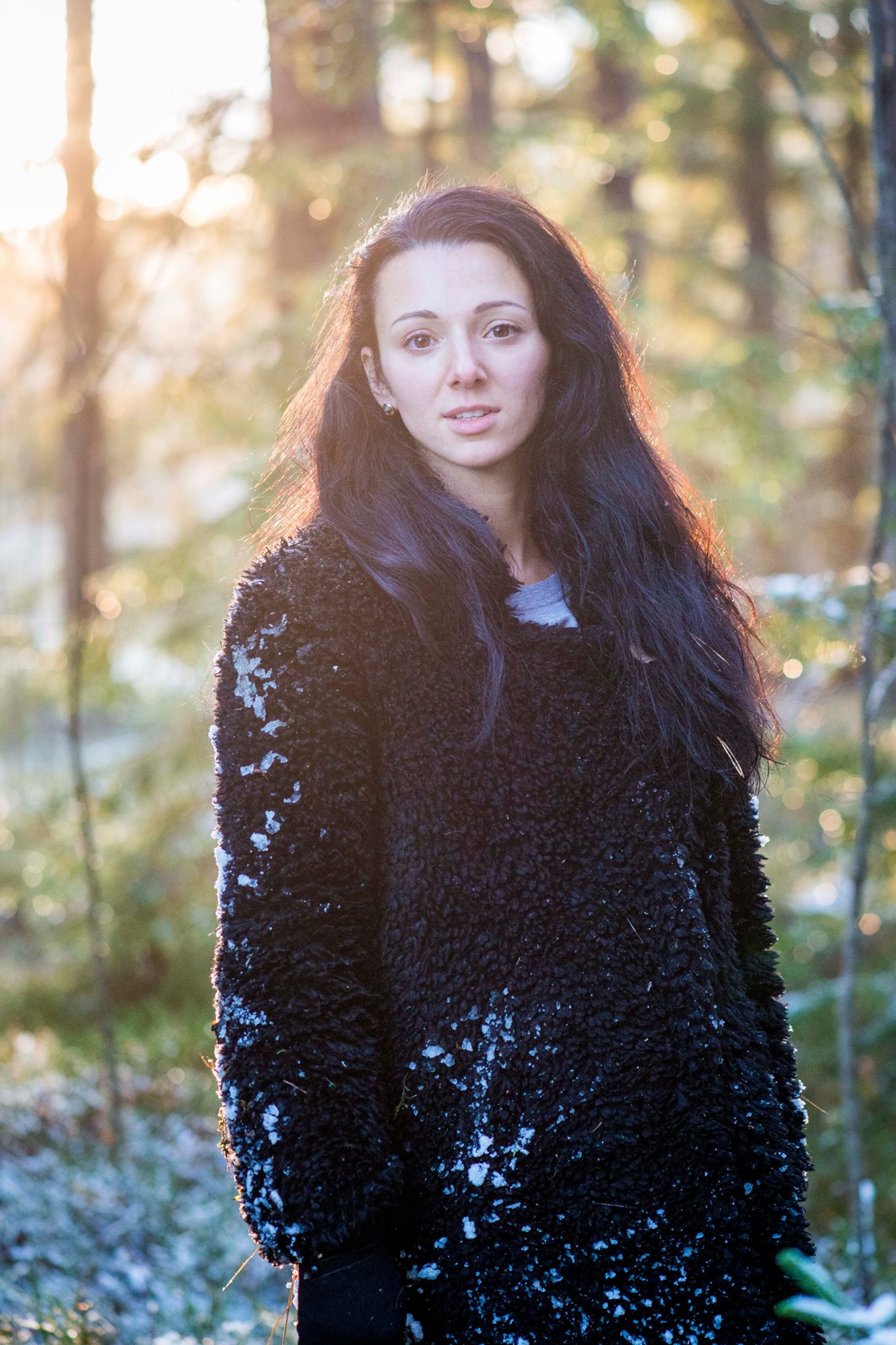 KRISTĪNE BRĪNIŅA
Kristīne Brīniņa (1987) is a Latvian independent choreographer and dancer who lives and works in Latvia. Graduated from the Dance Department of the Latvian Academy of Culture in Riga in 2011 and has since been active as a solo artist, also working in collaboration with other artists and non-professionals. Her work is inspired by daily life, situations and encounters with strangers, which she transmits on stage with empathy and humor. In 2014 Kristīne moved to the countryside in Cīrava where, together with her husband, they run artist residency in an old watermill, testing and trying to practice different ways of local involvement.
"Kristine Brinina finds the spaces where dance is still present within art and
life, and then turns it into a performance." Valteris Sīlis (Director)
MY WAY TO DANCE:
I come from a small village of Latvia called Loja. My memories of movement start when I was 4 years old. Together with my older sister we were improvising to the music of the 90ties. We were regular recording music videos in VHS-C videotapes and were learning dance steps. At age 7 my family and me moved to Riga where I started my first ballet classes. Later, when I was twelve I left ballet and joined a circus studio for one year. Afterwards I decided to dedicate more time to improvisation and individual exploration of movement. My free time was spent dancing a lot alone and I found myself creating small solo performances. At the age of 14 I began to teach free lessons for my schoolmates and to make performances. After high school I had a plan to study architecture, but while I was thinking about this decision a friend encourage me to study dance professionally. In 2007 I started my Bachelor studies in contemporary dance and choreography at the Culture academy of Latvia. My experience during these studies changed my understanding of movement considerably.
"She made a strong impression as an independently thinking young artist already with her graduation piece at the Latvian Academy of Culture in 2011", Laura Stašāne, project manager at New Theatre Institute of Latvia, letter of recommendation (NTIL), 09.12.2015
After graduation I was questioning why dance is valuable to be on stage and to be watched? What meaning can it add above the esthetical and abstractional frame?
From a 'movement creator and researcher', I become more an observer of daily life situations, where the movement appears in simple casual actions. The beauty of movement and compositions I observed emerging from living situations hypnotized me. It was a pleasure to watch the beauty of gestures from people, it lead me to think in a wider sense about the movement language. Starting from my first solo performance" Zeir" I was searching how to transfer this fragility and incidental appearance of existing movements and moments on stage whilst keeping sense of it. How to keep that, what needs to be, alive.
In 2013 and 2014 I was invited by NTIL as one of the collaborators in a choreographic parcours in Riga city, which was based on creations with non-professionals. Here I found out that I have a great ability to communicate and find a common language based on mutual trust with people of different communities. Also, in 2014 I was one of the performers and collaborators of the international Dance Moves Cites project, which took place during an intensive 5 months across several neighborhoods of Riga, exploring the potential of urban sites to become inspiration for choreographic creations. This project brought together Latvian dancers and international choreographers Koen Augustjnen (BE), contact Gonzo (JP), Willi Dorner (AT) in a series of outdoor productions. This experience created awareness of a wide range of possibilities in the territory of performing arts. It made a strong motivation to define my own interest and working method. "Documentary dance method" is the way I named my working practice. Since than my works have been built on documentary materials – recorded conversations, photos, video documentations and memory. The first performance where I fully implemented this method was "Catch Me" (2015). It was my first group piece after several solos and a bold decision to work with non- professionals; inviting six parents to represent their children on stage, which resulted in an honest and thoughtful piece.
"Kristīne Brīniņa is one of the most active and present dance artists of her generation in Latvia and one of the few with urgency for social context in her artistic practice." Laura Stašāne, project manager at New Theatre Institute of Latvia, letter of recommendation (NTIL), 09.12.2015
With the latest piece "24h of sleep" my attention approached the body as a vulnerable physical entity, bringing to the movement more abstraction without losing the meaning. I was exploring physical and emotional states of the body.
Besides creating I am regularly teaching workshops and master classes at the Liepaja Music, Art and Design Secondary School and Music and Art studio, festivals and institutions for different ages and dancers.
I am interested in creating works that challenge, question and interact with other people. Humor also has a significant role in my works. I am searching for new qualities of dance and movements what is appropriate to the context of today. I try to research what movement can mean in contemporary life.
Each piece is my autonomic universe where I have a freedom to speak out in different ways. Decisions, which I realize in my work, bring edges to my freedom. Autonomy, self-determination and belief in power of art to influence social processes is the reason why I am in performing arts. I can't refuse the personal freedom which art brings with it. I have often moments of doubts – is there any point in what I do? Whatever the answer is, art of dance seems to be structured within my cells and I cannot stop to do it.